Congratulations Class of 2021
Posted by

Date

February 11, 2021
Offers from universities have started arriving for Cronton Sixth Form students, many of whom are seeing the rewards for all their hard work after gaining offers at some of the top universities, including three talented students who have just received an offer to study at the University of Oxford.
Amongst many offers for Russell Group universities, Jack Meredith, Rebecca Powell and Keeley Dennett have all received the exciting news that after a rigorous application and interview procedure they now have secured a place to study at this prestigious institution.
Jack Meredith – Previously from, Wade Deacon High School

Offer to study Physics Degree at Oxford University (St Peter's College).
Applying to Oxford wasn't even something I'd considered until very recently, there was just a point when I realised I actually had a real chance, and I liked the course summary so much it was too good of an opportunity to pass up.
The application procedure was a lot less stressful than I'd been imagining. I was really expecting to be interviewed by stern professors one after another and it's even harder to make an impression over a zoom call, but they were as friendly and conversational as I could have wanted.
How did you prepare for your interview?
The college was genuinely supportive all the way through. The practice interview just really helped to calm my nerves and Dan Adams was so helpful in providing all the space and resources I needed for my interview
What are you studying at Cronton Sixth Form?
A Level Physics
A Level Maths
A Level Further Maths
A Level Chemistry
Prestigious Universities Programme
Student Leadership Team – This gave me several opportunities in public speaking that I never would have gotten without the college
Tomorrow's Scientists – This gave me so many new practical science skills that'll hopefully pay off when I get to university.
How did you feel when you received your offer?
I had my offer through my email, obviously, I was extremely happy to see my work pay off, but it did take a few days for it to sink in.
Plans for the future…
I've never really planned too far in advance but a research career in particle/quantum physics is the most interesting idea to me at the moment, I'm just waiting to see what sparks my interest at university.
---
Rebecca Powell – Previously from, Wade Deacon High School
Offer to study History and French at Oxford University, St Catherine's College.
I'd always heard about Oxford, but I suppose it was from the encouragement of teachers that I actually had the confidence to apply! I chose it not only because of its prestige but also because I genuinely loved the course, the city and the chance to be taught in small tutorials with world-class experts.
How did you prepare for your interview?
The process is definitely a lot more than other universities but if you really love your subject(s) it's actually kind of enjoyable which sounds a bit mad! I felt as though I got loads of support through my form tutor and subject tutors in helping me with plenty of drafts of my personal statement, choosing written work and mock interviews for each of my subjects.
What are you studying at Cronton Sixth Form?
A Level History
A Level French
A Level English Literature
A Level Maths
Prestigious Universities Programme
Centre of Excellence in Performing Arts productions
How did you feel when you received your offer?
I knew that I was going to find out on the 12th January so when I got an email saying I had an update on UCAS I knew that it was either doing to be good news or bad news! When I opened it up I couldn't quite believe what I was reading – it was a real pinch myself moment!
Plans for the future…
I'm not 100% sure at the moment, I'm thinking about maybe law, journalism or the Civil Service. I'm hoping that throughout university I'll be able to get more work experience (especially on my year abroad) to help me make the big decision!
---
Keeley Dennett – Previously from, Saints Peter and Paul Catholic High School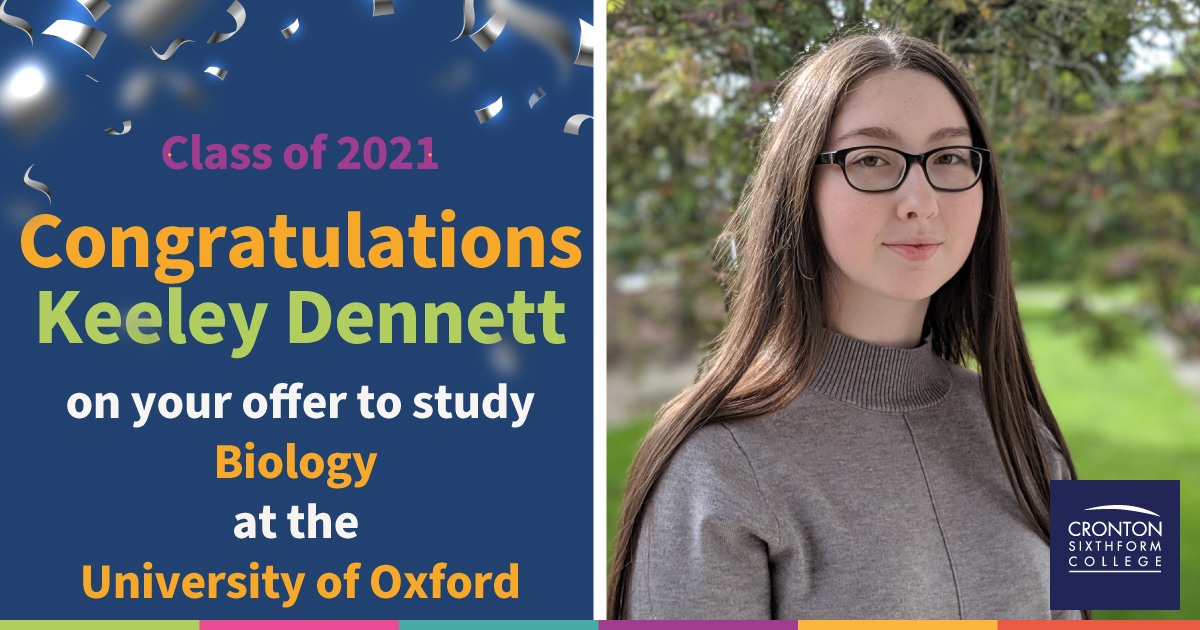 Offer to study Biology at Oxford University.
I had always liked the look of Oxford however I never thought it would be for me or that I would get in because I am from a working class background and didn't think that I would fit in.
In the summer between year 12 and 13 I took part in the UNIQ summer school. It really showed me that the Biology course at Oxford and the collegiate system suited me. I felt that I could make a strong application for the university and potentially even get in, so I decide to apply.
How did you prepare for your interview?
The applications procedure seems really scary at first because it involved early UCAS deadlines, interviews and entrance exams. As I applied for Biology, I didn't have to sit an exam, but the interviews were still quite stressful! Before my interviews, I completed mock ones with a mentor through a platform called Zero Gravity which was really helpful, and I also had a mock interview with my form teacher and she looked over my personal statement which I was really grateful for.
What are you studying at Cronton Sixth Form?
A Level Biology
A Level Maths
A Level Psychology
Prestigious Universities Programme
Tomorrow's Scientists
Student Leadership Team
I mentioned my participation in these programmes on my personal statement and they were really good to talk about in my Oxford Interviews- one of the first questions asked me to talk about the project I completed in Tomorrow's Scientists. It was great to discuss why I enjoyed it, what went wrong and what we found out by completing the project.
How did you feel when you received your offer?
I found out about my offer through UCAS Track and a direct email from the university. I was so nervous leading up to decision day, but I was so happy when the email from my chosen college came through!
Plans for the future…
Hopefully, after my bachelor's degree, I'll go on to do a master's and maybe even a PhD. After university, I'd like to go into research in genetics or embryology and maybe then go on to teaching.